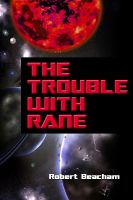 The Trouble with Rane
Robert Beacham
http://www.smashwords.com/books/view/328414
The Trouble with Rane is a short science fiction book about Ceras Rane. He is a ranger, which is to say a member of the police force that protects the galaxy. He is assigned to the worn out, over populated planet Earth. He learns that someone has been playing with his mind and memory and that there are people who are trying to kill him. He doesn't know who, but the Rangers suspect that is has to do with the drug Hero.
This book is smart and fun to read. There are some great humour elements added in to the space opera feel of galaxy wide plots and high and low tech. Rane is well developed as are the people he works with on the case. It is short, but it reads like an introduction to a larger work or series. The book is a very good introduction to the world, the hero and the villain. I'm sure we will be seeing more of them soon.
I recommend this book for anybody who enjoys science fiction and especially space opera.